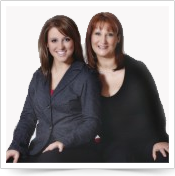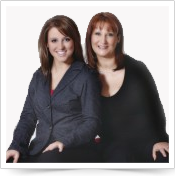 Houses to Impress is run by Australia's leading Property Staging Experts Charyn and Kate Youngson. Charyn and Kate are a mother and daughter team who specialise in providing home owners and property investors with cost effective ways to transform their properties so they sell faster and for the highest amount possible.
Have a chat with either Charyn or Kate about how they can make you more money and sell your property quicker. In the ever increasing "Buyers" market.
Charyn has many years experience buying, renovating, staging and selling homes for big profits and now she shares her property presentation secrets with her clients so they too make thousands of dollars. Kate has a background in building, construction, design and retail. She was a homewares manager at Freedom Furniture where she assisted her customers to create new looks for their homes with the latest soft furnishings and decorative items. Kate joined Houses to Impress in 2008 and brought her love of design and creativity to the property staging business.
As property renovators and home stagers, Charyn and Kate have made hundreds of thousands of dollars from solving other peoples' house problems and selling the solutions in every type of market. They have written a book about the strategies they use to prepare houses for sale so they sell faster and for more in any market and in any location. "Sold for Top Dollar – Low Cost Home Improvements to Maximise your Sale" is available for purchase In any book store. Or you can purchase online by clicking the title above.

It frustrates me to see home sellers make unintentional yet easily fixable mistakes that prevent the successful and profitable sale of their properties. Instead, they leave thousands of dollars on the table for their buyers. Every property seller should raise the bar and employ certain tried and proven real estate techniques to meet their buyer's expectations. Most sellers don't realise that they only need to spend a small amount of money to make thousands of dollars more when they sell. It is a tough market out there and home sellers need to engage every marketing tool possible to get the competitive edge over other houses on the market. Home staging is a "Home Buyer Attraction System". It is not just about making your house pretty, it's about getting it SOLD!– Charyn Youngson